Do you want to collect more email addresses for your newsletter on your site? Are you having trouble showing your website visitors that you're having a sale? Do you want to pay a small one-time fee for more features rather than an expensive monthly subscription for less features? If so, we have the WordPress plugin for you!
The Popup Fire plugin for WordPress allows you to add a highly customizable and targeted popup to any page of your website.
Custom Popup Layouts
You can display a variety of custom popup layouts, choose colors & fonts, and set text & images. Popup Fire's options allow you to create text & link, image, yes/no, social follow, newsletter signup, custom html and a collection of other layouts that we continually add to.
Never know what your popup should look like? We've got you covered with beautiful default images and compelling content so you can convert visitors out-of-the-box.
Highly Targeted Popup Display
Popup Fire allows you to choose where to display your popup. You can create a popup that will display on your whole site or on a single post. Choose any of these pages for your popups:
Posts
Pages
Categories
Tags
Archive
Attachments
Custom Post Types
You can run popups for a set period of time and even choose a referrer domain to show a popup only to visitors coming from Facebook. Pretty cool, right?
Popup A/B Testing & Analytics
You can't test the effectiveness of your popups without data! Popup Fire will automatically detect when users have clicked on your popup and track the number of conversions so you can see what works and what doesn't.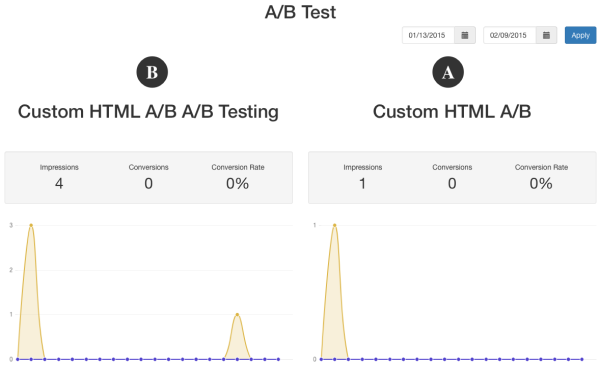 Want to test a minor change in content or a new image? Popup Fire has built-in A/B testing that easily implements the two popups, tracks their conversions, and compares the data for you.
Please check out the Popup Fire DEMO SITE to see Popup Fire in action!
Installation
Simply install the WordPress plugin as you would any other plugin.
Download the plugin .zip file to your computer
Navigate to your WP Admin > Plugins > Add New – OR – FTP the .zip file to your /wp-content/plugins/ directory on web server
Select the plugin .zip file and upload it to your WordPress site
Activate the plugin
All Popups
This window will give you a quick preview of your Popup Fire popups including status, name, impressions, conversion rate, start date, and end date.
Also, from the All Popups section you can turn a specific FireBar ON or OFF, edit, delete, preview, or A/B test it. At the top of the screen you can add a new popup.
Add New
This is where you can create a new popup and set all the options and styling. Add New is broken into 4 tabs: Template, Contents, Display Conditions, and Style.
Template
Name your popup
Choose from a collection of templates to add your popup content to
Contents
Edit template heading
Edit template message
Edit template footer
Depending on your template, you can set a number of other fields

Button Text
Link URL
Link Target
Nofollow Link
Newsletter Platform
Image
Video
Custom HTML
Social Links
Display Conditions
When

Start and End date of the popup
Triggers: Timed, Scroll, and Exit Intent
Cache Delay

Where

Sitewide
Post
Page
Category
Tag
Attachment
Archive
Custom Post Types

Who

User Visibility – show to everyone, registered user, specific user roles, or non-users
Domain Referrer – show to users visiting from specific websites

Run popups on mobile devices
Style
Text

Color
Link Color
Font Size
Font Weight
Google Fonts for both headings and paragraphs

Background

Color
Texture
Rounded Corners

Buttons
Custom CSS
There are dozens of different options to choose from that can make your Popup Fire popups truly unique without an unnecessary bulk of options.
Our goal was to create a simple and intuitive interface for you to choose options and setup your popups and achieve your goals as soon as possible.
Stats
All Popup Fire Stats
This window lets you see how well your popups are performing.
Specific Popup Fire Stats
You can also see the stats for individual Popup Fire popups. There is even an export button that will export your stats as a CSV file so you can analyze and send out reports on your own.
Support
Thank you for purchasing Popup Fire! As I said at the beginning of this post, we're glad to help if you have any questions relating to this plugin. No guarantees, but we'll do our best to assist.
If you have any questions related to this plugin, please ask on the support forum. We will resolve any bugs or issues promptly. Finally, we simply ask that you leave a 5-star review if you love this plugin and the support provided by our team.
We respond to support forum questions Monday – Friday between 9AM – 5PM EST. We will respond to every support forum thread. Please note that the support forum is only for members who have purchased one of our products.